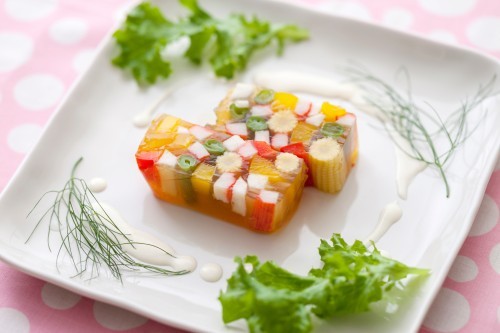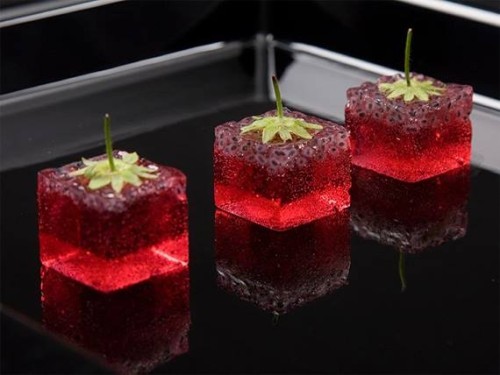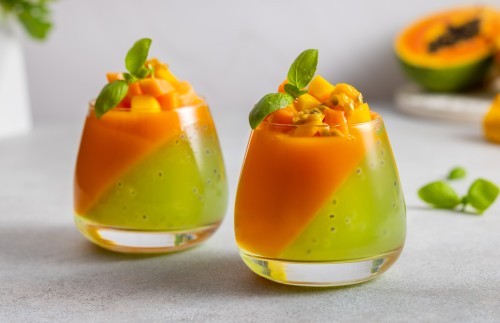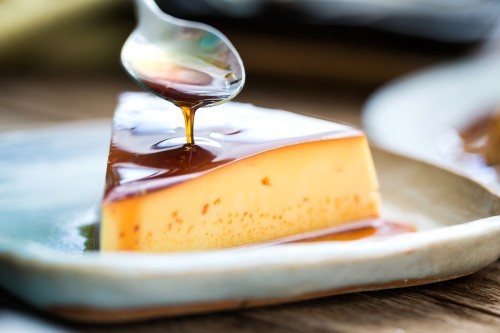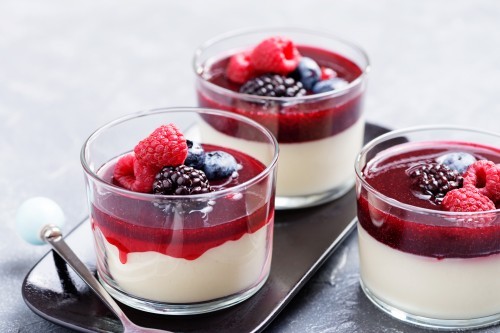 ORGANIC AGAR
ORGANIC AGAR is an excellent gelling agent of plant origin (seaweed) that can be used alone and at low dosage levels to replace gelatine or pectin in your food preparations.
ORGANIC AGAR is ideal for preparing gels and mousses that are stable to heat, acidity and exotic fruit enzymes (pineapple, papaya, kiwi...).
ORGANIC AGAR can also be used to texture foods (minces, aspics, terrine, flan, gravies and sauces, toppings, glazes...) that can be eaten cold or reheated well above room temperature.
As ORGANIC AGAR gels resist microorganism enzymes, they are recommended for texturing « live foods » (fermented milks, vegan cheese...).
Spout-fitted stand-up pouch (1 kg)
Standard Packaging:
Organic (EU)
Kosher (plant origin)
Halal (plant origin)



Functional Properties of ORGANIC AGAR
ORGANIC AGAR yields brittle firm transparent gels. When used in synergy with other ingredients (konjac, galactomannans), it forms soft, flexible, and cohesive gels that are less brittle.
ORGANIC AGAR gels are neutral in flavour, aroma, and colour. They are appreciated for their excellent ability to release the flavours and aromas of other ingredients.
ORGANIC AGAR powder dissolves at high temperature (+90 to 95°C). The gel forms after cooling to a temperature below 50°C. 
These temperature characteristics result in interesting functional properties: 
During cooling, the agar preparation can be moulded.
Heat sensitive ingredients can be added to the solution during cooling.
Once cooled, the resulting agar gel is a solid with a high melting point.
ORGANIC AGAR gel is thermo-reversible: it can melt if reheated above 90°C.
Nutritional properties of ORGANIC AGAR
ORGANIC AGAR is almost solely composed of dietary fibers (above 90%).
Uses of ORGANIC AGAR as gelling agent 
ORGANIC AGAR can be used in:
Gel preparations with acidic ingredients,
Exotic fruit preparations that are incompatible with the use of gelatine (pineapple, papaya, kiwi, fig...),
Fermented products with a live microflora (yoghurt, fermented foods).
Uses of ORGANIC AGAR  as texturing agent
ORGANIC AGAR can be used to texture:
desserts and sweets (flan, bavarois, panna cotta, charlotte, mousse...),
dishes to be served cold or heated (aspic, terrine, gravies and sauces, coatings, glazing...),
restructured foods and minced products (even served hot),
fruit purées and jams that retain fresh fruits flavours (no need of acidification and/or addition of sugar or calcium; no need for concentration or excessive heating which reduces cooked aromas),
sweets and desserts to improve their heat tolerance (in place of, or with gelatine),
coatings and sugar glazes (millefeuille, eclairs...) to reduce water bleeding and melting,
vegan formulations to replace eggs and / or gelatine.
Remarkable uses of ORGANIC AGAR
ORGANIC AGAR can be used to:
make jelly cocktails and gelled alcoholic beverages,
prepare heat resistant sweet or sour mousse toppings,
create various Molecular Cuisine jelly specialties.
Origin and quality
ORGANIC AGAR comes as an odourless white powder. It is processed in Europe from red algae harvested off the coast. 
Regulatory information
ORGANIC AGAR is a gelling agent (E406)
ORGANIC AGAR is permitted in Organic food formulations.
ORGANIC AGAR is compatible with vegan, vegetarian and gluten-free recipes.
How to use
Dosage: 0,5 to 1 g/100 g total mix (depending on desired firmness)
Preparation: 
Sprinkle the ORGANIC AGAR in a liquid preparation and heat it (> 90°C) to ensure its dissolution.
Leave to stand in a cool place until the mixture has set into a gel.